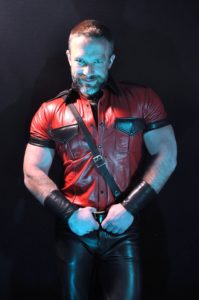 Dirk Caber is a composer, pianist, tubist, and singer working in music editing and research, and who also dabbles in acting, modeling, and voiceover work. 
Having filmed his first scene for Titan's ROUGH line in 2010, he's since filmed well over a hundred scenes with over twenty studios worldwide. 
He loves architecture, literature, languages, nearly anything mechanical, and of course music of all sorts.  Reared in Maine and educated in Boston and Baltimore,
Dirk then lived as a professional musician for 12 years in NYC.  During those years he started exploring BDSM, and quickly became highly active in GMSMA and other leather and SM organizations. 
After a few years in Chicago, he moved back to Boston in 2013 to live with his now-fiancé, fellow porn star and TitanMen exclusive Jesse Jackman. 
Alongside social and advocacy issues, he writes about his porn experience and real life and how the two interact on his blog at DirkCaber.com.  A taste of the music he composes can be found at SoundCloud.com/DirkCaber.